Big Brother is Watching You

Big Brother is real and it is vitally important for everyone on Earth to understand this. The purpose of this book is to inform as many people in the world to the danger that Big Brother poses for our freedom, security and prosperity, and to show them how to oppose and stop him. The ultimate goal of Big Brother is exactly what O'Brien said to Winston Smith in Eric Blair's expose of Big Brother:

If you want a picture of this future, imagine a boot stamping on a human face –forever. (1984, p. 220, emphasis mine)

For the average person it is most difficult to see signs of tyranny even though they are right in front of them in newspapers, magazines, books, movies, radio and television. This is why Eric Blair (a.k.a. George Orwell) said, "To see what is in front of one's nose needs a constant struggle" (In Front of Your Nose, 1946).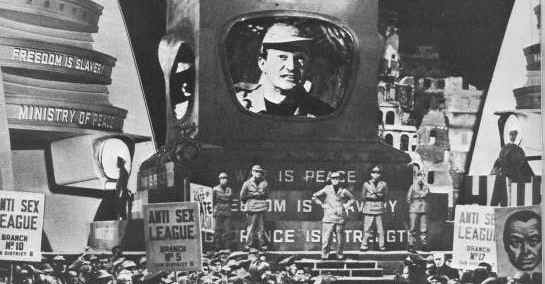 CONTENTS

BOOK ONE

PART I – SURVEILLANCE AND SPYING

1. SPACE AND AIR SURVEILLANCE

2. TRAFFIC AND PEDESTRIAN SURVEILLANCE

3. HOME, SCHOOL AND OFFICE SURVEILLANCE

4. CITY SURVEILLANCE

5. GPS SURVEILLANCE

6. EAVESDROPPING

7. SPYING ON THE PEOPLE

PART II – INFORMATION GATHERING AND IDENTIFICATION

8. INFORMATION GATHERING

9. IDENTIFICATION PROGRAMS

PART III – BIG BROTHER TECHNOLOGY

10. MARK OF THE BEAST TECHNOLOGY

11. BIG BROTHER TECHNOLOGY

The Solution

Gradualism

Ten Commandments

Ten Commandments of Patriots

Ten Commandments of the State

Recommended books, DVDs and Films

Comparisons between 1984 and today

Duty of all Christian Patriots

Bill of Rights

Note concerning the Table of Contents: The Conclusion, Glossary and Appendices A through H are the same in each book while the Bibliography varies for each book.

BOOK TWO

PART IV – BIG BROTHER LEGISLATION/PROPAGANDA

12. LEGISLATION

13. PRESIDENTIAL DIRECTIVES

14. PROPAGANDA

15. MEDIA PROPAGANDA

16. MIND CONTROL

PART V – ENFORCEMENT OF BIG BROTHER'S DICTATES

17. RANDOM CHECK POINTS & SEARCHES

18. MILITARY

19. ENFORCEMENT

20. NON-LETHAL ENFORCEMENT WEAPONS

21. LETHAL ENFORCEMENT WEAPONS

PART VI – BIG BROTHER'S END GAME

22. THE NEMESIS

23. THE END GAME

BOOK THREE

PART VII – BIG BROTHER IDENTIFIED

24. BIG BROTHER

25. OLIGOPOLY

26. BIG BROTHER NATIONS

PART VIII – CONFESSIONS AND WARNINGS

27. CONFESSIONS BY AND ABOUT THE CONSPIRATORS

28. STATEMENTS BY AND ABOUT THE BANKERS

29. WARNINGS ABOUT BIG BROTHER

30. LIES OF BIG BROTHER

PART IX – THE END GAME

31. GEORGIA GUIDESTONES

32. CONFESSIONS OF GENOCIDE

BOOK FOUR

PART X – THE EXECUTION

33. FALSE FLAG

34. CULLING THE HERD

35. THE PHONY WARS

36. ILLEGAL, UNETHICAL AND IMMORAL EXPERIMENTS

37. H.R. 2977

38. PROJECT BLUEBEAM

To purchase your copy of Big Brother is Watching You email - bigbrotherment@yahoo.com

or call 928.237.5351.

To schedule an interview with the author call or send an email.